I just realized that my last five posts have all been videos swiped off the internet. Damn boring.
What's new?
I haven't taken any pictures lately. There's something wrong with my little Lumix and everything looks like shit. Besides,
Hamachi
and
Patches
are working their Panas out, so I don't have to.
I suck at racing bicycles, so I bitched out of the race on sunday.
Kruger's farm
. Always pretty and perfect. Tractor ruts and the last geese overhead. The first place I raced after I came to Portland, and my favorite.
We went up with the Lads, drank some
beer
, did a little bonfire action. In talking, realized that it was their third season attending cx at the farm, and they won't be three years old until January.
Raising them up right!
Which gets me to considering that my sons already don't think of the the Bicycle as a novelty, or as a toy. They are, at this early stage, already fully attuned to its use as an everyday tool of much utility, and also one of great joy.
It's what gets us to the store. And to the park. And to the Bye and Bye for edamame and brussels sprouts and The
Doo-Shay
of a Sunday afternoon.
It's my hope that when they're older, they'll ride more than they drive, take pleasure in the maintenance of the machine, and most importantly, not have to think about it nearly as much as I do.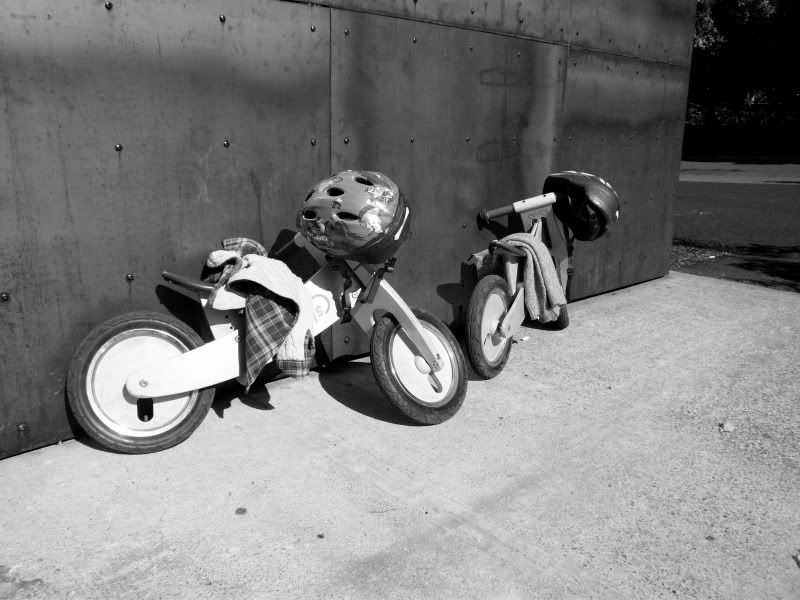 What did you guys do this weekend?