A couple of weeks ago, Berg had a post about hybrid cars, and I promised him that I would soon be bringing something back from Idaho that would make his skin crawl.
"Kind of greenish and gets about 6mpg" I think were my direct words.
I have now re-cemented myself to the roots of all of my happiness and miseries with the return of the Green Ghost.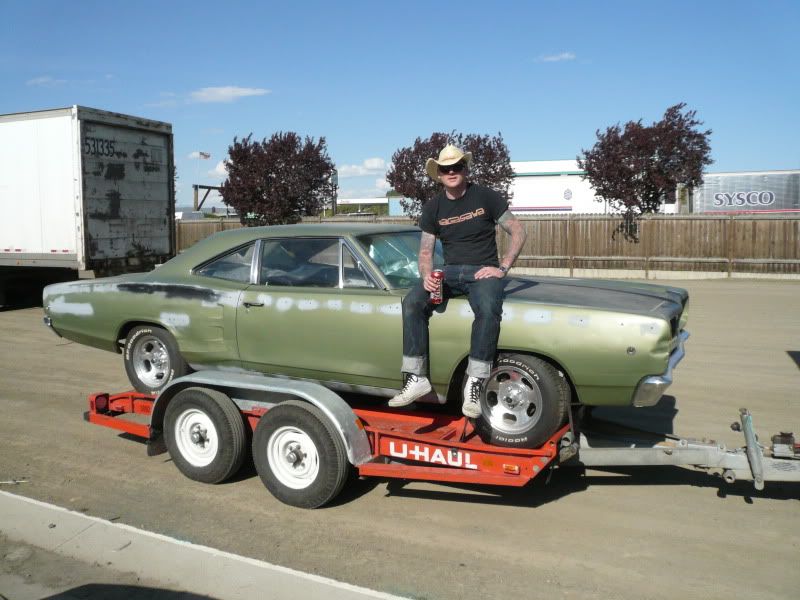 The Saga of the Ghost.
In 1996, I came back from New York City, heartbroken, broke, busted.
The girl I left in San Francisco left me while I was gone, and the girl I went to see, well, she didn't want to see me. Or at least her man didn't want her to see me. There was talk of violence and a lot of tears.
I remember sprinting through JFK, a trail of papers, songs and poems and maybe money too, spilling out of my backpack. And an all night flight. A cab ride back to to old 20 Sanchez.
The girl I loved was
dead
. The other ones wanted nothing to do with me.
I did I guess what any young man would or should do when staring down a sadness of this sort:
I bought a car.
Sort of a creampuff, in a $700, I got it off the son of the old man who bought it off the lot, kind of way. Two-door post, skinny tires, quiet.
I paid the guy half and he let me drive it away.
When I turned on the defroster, a lot of pine needles blew out onto me.
I took it to the exhaust shop, and made it loud. Hit the Pick-and-pull for a set of cop wheels and some meats.
I never really loved the car back then, but it suited my personality. I fit in it and it made me feel alright.
Yes, I drove with open containers, a thousand dollars worth of parking tickets stuffed in the glovebox and my arm hanging out the window.
I was driving it when I finally decided on a wife. It got towed away and auctioned off, and thru a miracle of coincidence found its way back home (though I could never register it in my name in California ever, ever again). It languished in Oakland with a bad motor and a worse front end. I tried to sell it. No one was buying.
Other cars came and went, got crashed, sold, left in the rain somewhere. A big-block turned on a stand and crushed my hand and I swore off cars forever, and returned.
And returned.
It went on a trailer to Idaho with my folks. Snowed in in Grass Valley for 6 days and over Donner at 35.
Finally out of the city for the best summer of my life, I treated the car like a full time job while my woman laid peacefully indoors, our twin sons turning inside of her.
Ran it in, aligned. My arm on the old familiar door. Some good fun before the inevitable explosion. Because things do. They just do.
Towed from Sweetzer summit all the way to Weiser and stored-up again, full of cardboard boxes and mouse turds and here I am living this bicycle life in Portland while the Ghost has languished.
I have so much tied up in this deal. Money and a physical sort of pain and all the emptiness and shit I've never dealt with. Blood on my hands and crushed friendships and a thousand, thousand drunks and awakenings. All the promises I made to myself and forgot and betrayed.
Well, anyway, I got my car back. I drove out there with The Snus, Weezy, and The Cuban, put the fucker on a trailer and balled it back home. These guys don't know about any of this. They think it's a bad-ass car, and that it looks good on me, and that's about as far as I guess I need to take it.