I wore the suit again. The terrible suit. It binds and is hot. I drank beer before coffee. I drank beer before food.
I
had
food. I stopped at the Safeway in Clatskanie and bought two bananas, a Clif bar, some string cheese, and a bottle of Pellegrino. $4.89.
Out on the highway, some fifteen miles further into the fog of the coast range, there was a guy pushing one of those bicycles with the ratty trailer. A lot of hefty bags and tarps and a brown dog wearing a person's wool sweater.
I saw his down coat with the feathers sticking out and the tape on it, and his wet hair hanging down, and I pulled the car over and backed down the hill. The dog barked at me and I gave the guy the plastic bag of food. He looked like he needed it. He didn't say anything, but it was 48 degrees and going right thru to the bone. I hope he ate it and got some sustenance from it.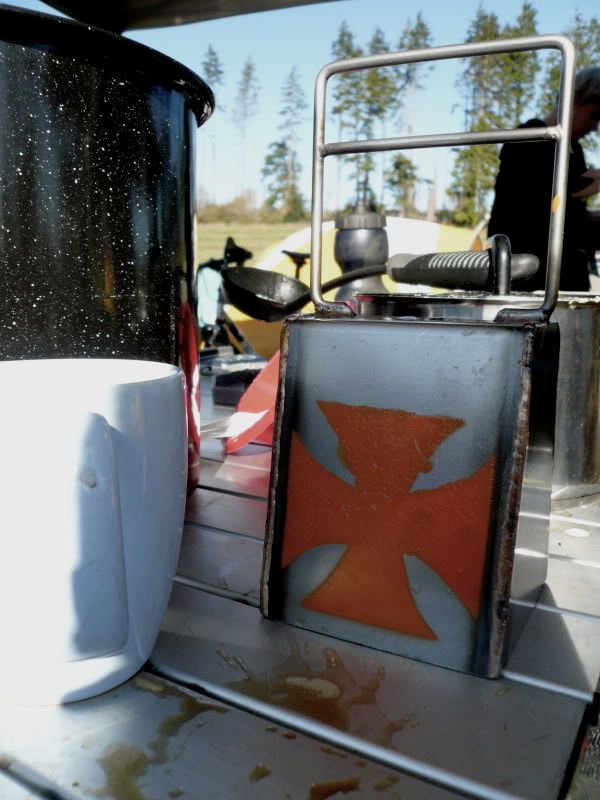 The Team had been camped at the fairgrounds for two nights already. They looked like mud and rain and oatmeal stout. They were chopping up pumpkins with a double-bit axe and pretending to eat a little, here and there.
Everything was glowing when I arrived, and there was a keg. I put on the suit, knowing it was the wrong thing to do. Such has been my life.
I'll leave the details of the racing to the Hankbuilt
blargh
, but I can tell you that we are in trouble with everybody.